Articles
What You Need to Do Before an Interior Designer Works on Your Home
posted Feb 27,2017

Once you've decided to hire an interior designer, there are a few ways to get your home prepared before the work begins. ...
Types of Window Coverings for Your Home
posted Feb 27,2017

Window coverings can serve both a functional and aesthetic purpose. They can offer shade and privacy while also incorporating your specific tastes. ...
5 Interior Design Tips to Make Your Home Cozy in the Winter
posted Jan 31,2017

There are a number of reDuring the cold winter months, you and your family are more likely to find yourselves indoors. While it may be more enjoyable to be outdoors, there may be times ...
How Window Coverings Create Harmony Between Functionality and Style
posted Jan 31, 2017

Window coverings have a lot to offer in terms of functionality and style. Both of these elements can create a sense of harmony in the look and feel of your home. We tend to think that window ...
Why the Right Lighting is Important for Your Home in the Winter
posted Dec 30, 2016

There are a number of reasons why the right lighting is important in your home's overall look, feel, and functionality. In the winter, your lighting choices make a big difference. This week's blog will explain why. ...
Colour Can Be Your Home's Best Friend or its Worst Enemy. Here's Why.
posted Dec 5, 2016

Colour choices on your walls can play a big role the enjoyment of your home. We like to think that it can be your best friend or your worst enemy. ..
3 Tips to Consider When Decorating Around the Fireplace
posted Nov 25, 2016

Fireplaces are beautiful and cozy spaces in and of themselves. Did did you know that you can do so much more to the space itself to make it even more appealing? Winter is well on its way and that means it's time to start spending more time around this space. Here are a few tips on how we can help you create the beautiful space you'd like.
3 Interior Design Tips for Small Spaces
posted Nov 7, 2016

Small spaces in your home can be used in a variety of ways. In order to get the most out of the space, it's best to be strategic.
What the Right Lighting Can Do for Your home
posted Oct 26, 2016

The right lighting is not as simple as flicking on a switch or screwing in a lightbulb. There is much more to it. When you're designing your home, lighting is just as important as the colours on your walls or the pieces of furniture you choose for a room.
Myths about interior decorators
posted Oct 7, 2016

There are a number of misconceptions and myths surrounding the field of interior design. Buying into these myths can be detrimental to the look and feel of your home. At Tall Pines Interiors, we want to make sure you have the home you love. Continue reading this blog to learn the truth behind these common myths.
How to Give your home office a professional polished look
posted Sept 26, 2016

There are many advantages to working from home. Although you have a great deal of flexibility in your day, it's important to keep your work space professional. Here are some tips to give your home office a professional look and feel.
Fall is the time to bring warmth inside your home
posted Sept 23, 2016

Now that the days are starting to get cooler, it may be time to start thinking about spending more time inside your home. The question is, are you happy with the way your home's interior looks? If your answer is no, then fear not. Fall is an excellent time to start designing the home the way you want it. Here are some reasons why.
Working with an Interior Designer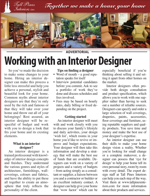 So you've made the decision to make some changes to your home. Hiring an interior de­signer can make this process a little less stressful and help you achieve a personal, stylish and beautiful look for your home. Common myths about interior designers are that they're only used by the rich and famous or that they will take over your home and throw out all of your belongings! Rest assured, an interior designer will be re­spectful of budget and work with you to design a look that fits your home and its existing elements.
Window Coverings make a statement in your Home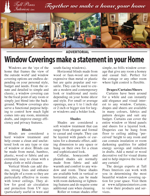 Windows are the 'eye of the home that frames the view of the outside world' and window covering options are endless de­pending on your personal style, budget and needs. From the or­nate and detailed to simple and classic, a window covering can be the focal point of any room or simply just blend into the back­ground. Window coverings also serve a functional purpose help­ing to control how much light comes into any room, minimize drafts, and improve energy effi­ciency and privacy features.
Great Spaces for Kids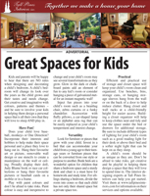 Kids and parents will be happy to hear that there are NO rules when designing and decorating a child's bedroom. A child's bed­room will change its look over the years as the child grows and their tastes and needs change. Get creative and imaginative with colours, patterns and themes - and be sure to involve your kids in helping them design a personal space that is all their own that they will love to sleep AND play in.
Lighting to light up your Life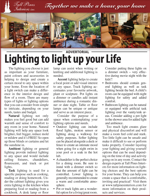 The lighting you choose is just as important as your furniture, paint colours and accessories in helping to design and create a certain mood to any space within your home. Even the location of a light switch can make a differ­ence in the interior design and flow of a room. There are many types of lights or lighting options that you can consider from simple to intricate, depending on your needs, tastes and budget.
Helpful Links